One mile below the water's surface in the Gulf of Mexico, robots are attempting to fix one of the greatest environmental catastrophes in human history. Without robotic technology of some form or another, we would most likely be unable to ever stop the flow of crude oil into the gulf, ultimately polluting our oceans, rivers and lakes, killing off countless amounts of sea life, birds, land animals and eventually, us. This is only one instance where much like Hosted Exchange 2010, robots have been employed to save the day. Robots can work in areas too dangerous for humans, they do not experience fatigue, hunger or thirst, they can withstand extreme temperatures, pressures, and weather, and they can perform tasks with surgical precision under some of the harshest conditions. So while we can't seem to dig ourselves out of the many holes we've clumsily created on this planet, we can create robots to do the digging for us. The following are some examples of these.
Robots in Hospitals
In the face of a low birth rate and an ever-aging population, Japanese hospitals are rapidly approaching crisis as they simply don't have enough nurses to deal with the influx of patients.  You would think an obvious solution would be to encourage emigration, inviting foreign workers to alleviate the pressures on the Japanese staff.  You would think.  This is not the case however.  The Japanese actually oppose the idea of immigrant doctors and nurses, as they place high value on an ethnically homogeneous society, to the point where their entrance exams for foreigners are so difficult that even Japanese people wouldn't pass.  Instead they've turned their heads towards robots.
(image source)
Hiroshi Ishiguro will most likely be the man to call if your hospital decides to "hire" nurse-bots, as his latest lifelike machine, the Geminoid-F, was presented to the world in Osaka this year.  At over $105 000 a pop, the robot's rubberized face was designed to imitate human facial expressions, "enabling it to pull off subtle gestures that have thus far been impossible to replicate on a robot. Sly grins, angry glares and totally-fake smiles are all possible now."  These robots will make perfect nurses.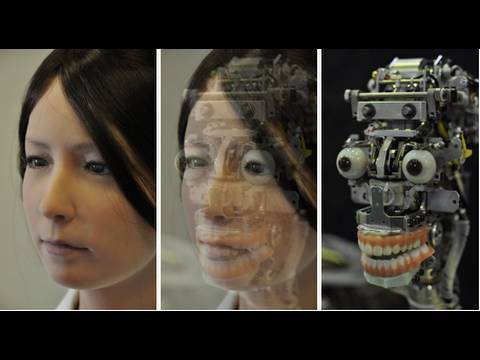 Robots on the Moon
Also based in Osaka, Japan, the Space Oriented Higashiosaka Leading Association (SOHLA) has promised to place bipedal humanoid robots on the moon by 2015.  The prototype robot under development is called "Maido-kun", and will cost nearly $11 million to complete.  So why are they putting robots on the moon?  To build a moon base of course.  The creation of Maido-kun is part of a $2.2 billion project to construct a base on the south pole of our moon, and is scheduled to be completed by 2020.
(image source)
Space robots will also play a crucial role in the Shimizu Corporation's plans to build a belt of solar cells around the equator of the moon.  Aptly named The Luna Ring, the project aims to transform sunlight into electricity, a process which could potentially solve our planet's impending energy crisis.  The robots would perform tasks such as ground leveling and assembling machines and equipment.
(image source)
"Shimizu points out that one of the biggest advantages of the Luna Ring is that, since the Moon has virtually no atmosphere, there is no bad weather or clouds that could inhibit the efficiency of the solar panels. As such, the Luna Ring achieves 24/7 continuous clean energy generation, potentially ending our reliance on limited natural resources." (source)
(image source)
Robots in Your Body
Of all the sci-fi movie attempts to predict the future, who would have thought that Inner Space would eventually hit the bullseye. Okay, well maybe not exactly. We still haven't figured out how to shrink Dennis Quaid down to microscopic proportions, but scientists have created molecule-sized robots that can be safely injected into human beings.
(image source)
Nanobots gained massive international attention when they revolutionized the battle against cancer. Then the Japanese invented the "nanobrain", a central duroquinone molecule which acts as a docking station for many nanobots, a nano-factory if you will, capable of performing over a 1000 tasks at once. Most recently U.S. scientists have created even smaller robots made from DNA, capable of working together in assembly line fashion to actually build things like gold from the molecule level up.
Robots in the Water
(image source)
Man in one way or another has made life extremely precarious for many of our underwater creatures.  Industrial fishing aside, entire schools of fish are being wiped out simply by swimming into polluted waters or into giant underwater turbines.  This is why Maurizio Porfiri, a researcher at Polytechnic Institute of New York University is trying to perfect a robot fish, a fish designed to take the head of the class and to lead schools away from danger.
"But first researchers had to recreate realistic swimming mechanisms. Porfiri designed the robot to swim silently, using ionic polymers that respond to electrical stimulation from a battery to drive the fins. This enables the robot to move in a smooth-yet-jerky, darting fashion like regular fish.  Porfiri's vision is that future robotic fish won't need batteries at all. Instead, they will harness energy from small eddies and vibrations in the water." (source)
Researchers at the Osaka City University have also been hard at work designing robot fish.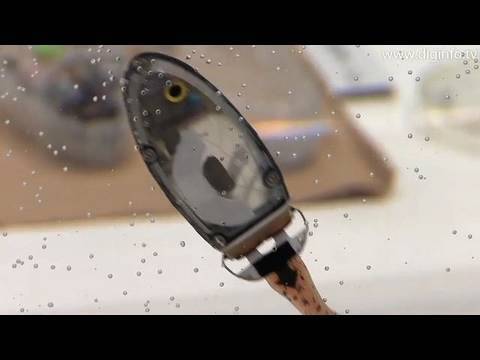 With devastating amounts of oil pumping into the ocean as we speak, the sooner we can employ these "savior" fish to prevent millions of fish from swimming to their oily deaths the infinitely better. Every level of the food chain is affected by this disaster, from the plants to the people. Let's hope our robots can stop the leak at the source.